Fr. Joseph Griffin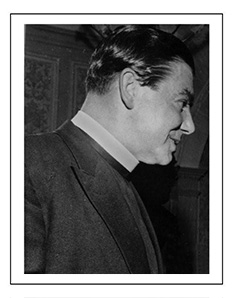 At the finish of his chapliancy in H.M. forces in 1945, Fr. Griffin came to Hednesford (I understand in his army uniform) as an assistant to Fr, Healy whom he succeded as Parish Priest.
He was ordained in 1932 and served as an assistant priest at St Mary's, Uttoxeter, St Elizabeth's, Coventry and St Anne's, Alcester Street, Birmingham and then a year at Canterton in Oxfordshire before ministering to His Majesty's Forces.
During his years at Hednesford he became renown for his fine tenor singing voice and powerful speaking which he used to the benefit of the Birmingham Lourdes Pilgrimage. From the steps of the Rosary Basilica in Lourdes he led the English prayers at the daily Eucharistic Procession - without the aid of a microphone. Pilgrims looked on in amazement at the power of his voice on these occasions.
It was Fr Griffin who welcomed the Polish Refugees to the Diocesan Shrine at Hednesford at their pilgrimages which began in 1948. He made many improvements to the church and had Centenary Hall built which was opened in the Lourdes Centenary Year 1958.
He was one of the founder members of the annual Hednesford pilgrimage in 1969. Fr Griffin is buried in the churchyard next to Fr Boyle around the calvary.
Fr. Laurance Daly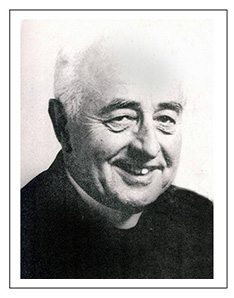 It had become something of a tradition in the Diocesan life that incumbent of Hednesford should have a close association with the annual diocesan pilgrimage to Lourdes. So Fr Daly who had travelled with the pilgrimage since 1958 was appointed to succeed Fr Joseph Griffin on his retirement in 1972.
From Manchester, he studied for the priesthood at the Beda Seminary and was ordained in 1955 and served in curacies at St Joseph, Wolverhampton, St Teresa, Saltley. He undertook youth ministry at Soli House, Stratford-upon-Avon and a final curacy at St Elizabeth's, Coventry, before his appointment to build a church and presbytery at St. Peter, Eynsham, Oxon. Prior to Hednesford he spent a couple of years at Our Lady Help of Christians in Tile Cross, Birmingham.
He retired in 1985 and died in 1992, he is buried in the churchyard at Hednesford next to Fr. Griffin.